This effort is supported by a Global Evaluation Advisory Committee (EAC) that will consider potential partners and review research designs and major products from each study. The EAC reviews all key designs and major evaluation papers. They meet annually with all both the GFRPUNC team and all the collaborating teams from Mexico, Brazil, Chile, Colombia, South Africa and any new group.
In September 2017, Obesity Reviews published a Letter to the Editor from the EAC team, titled Principles behind evaluations of national food and beverage taxes and other regulatory efforts. View the pdf here, or read the contents of the letter below:
Dear Editor,

Considerable controversy surrounds taxes and other regulatory policies (such as restricting marketing to children and setting mandatory standards for foods available in schools) being implemented around the world to discourage unhealthy eating. Thus, it is imperative that, where implemented, these policies are evaluated to the highest standard, considering the specific elements of how the taxes and regulations are designed, existing consumption trends and any weaknesses in the available data used.

A crucial way to ensure a high-quality evaluation is to ensure that the evaluation team has the competency, skills and experience to conduct the evaluation. They must also be independent and have no conflicts of interest with regard to the findings. Another mechanism to support high-quality evaluations is to establish an independent advisory committee to provide oversight over the evaluation. Such mechanisms can (i) provide advice on the data utilized and the methods considered for each evaluation; (ii) review and provide rigorous feedback on preliminary results and methodologies and interpretation of results; (iii) review final papers and provide critical feedback; and (iv) provide credibility and transparency to the evaluation of implemented policies.

Such a committee has been put into place to provide guidance to and oversight of the evaluations of implemented taxes and regulations in Latin America (e.g. Mexico's sugary beverage and 'junk food' taxes; Chile's mandatory front-of-package labelling). The Mexico beverage tax Evaluation Advisory Committee comprises global experts with knowledge and skills in public health, economics, nutrition, epidemiology and marketing along with broader policy scholars who understand critical contextual issues. No members have conflicts of interest with regard to any entity that might be affected financially by evaluation results.

To guide our work, we have developed the following seven core principles to ensure that the evaluations are conducted to the highest possible standard.

Findings of the evaluations must be based on rigorous and well-accepted statistical methodologies.

Best practice methods must be used. Standard procedures in epidemiology and economics must be followed to allow for a reasonable baseline control period (e.g. ensure the pre-tax trends for products are known and evaluate how the tax affects this trend line). Interrupted time series analyses/difference-in-difference analyses are an example of well-established methods. Experimental designs, while desirable when circumstances permit, are generally not feasible as there is no meaningful control. Analyses should adjust for variables at the individual or household level, as well as contextual variables that change over time and could be associated with the outcome of interest (e.g. demographic composition and inflation rates); this is particularly important in the absence of a true experimental design.

Data utilized in the evaluation must be of acceptable quality and representative of a meaningful population or subpopulations. National representativeness is ideal, but this must be balanced with what is available.

All studies should provide detailed descriptions of the methods used, sources of information, materials that describe the sample and the estimations (adjusted and unadjusted in tables or figures) and impact on minorities and/or lower income populations when possible.

The way in which the intermediate and final outcomes could change after a policy is implemented (e.g. change in prices or a change in marketing) must be clearly described and assessed. Intermediate measures of behaviour such as food purchasing behaviour should be assessed. Health impacts will take more years to achieve, so intermediate outcomes such as food purchases or dietary outcomes are critical.

All studies must have a description of the advantages as well as limitations of the datasets used, variables included, non-observable factors and the methods used. There must also be transparency requirements in the evaluation process, including funding sources and explanation of the source and treatment of the data. Source of funding matters: peer review by independent peers is critical but cannot prevent conflicts of interest from affecting results as has been shown [1-3].

Studies submitted for peer review and publication in established scientific journals must follow specific reporting guidelines (e.g. STROBE for observational studies and PRISMA for systematic reviews), as part of the Enhancing the QUAlity and Transparency Of Health Research network.

As members of an Evaluation Advisory Committee, we take our role very seriously to ensure that contributions to the literature on what and how policies can help prevent the spread of obesity and non-communicable diseases across our globe are robust and valid. We have applied stringent standards to this end.
Members of the Global Evaluation Advisory Committee
Co-Chairs
Barry M. Popkin
D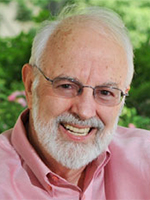 r. Popkin is W. R. Kenan, Jr. Distinguished Professor of Nutrition at University of North Carolina Chapel Hill. Dr. Popkin's work on diet, physical activity and obesity-related research in both the US and globally has focused on the concept of the Nutrition Transition, the study of the dynamic shifts in dietary intake and physical activity patterns, and on trends in obesity and other nutrition-related noncommunicable diseases. Dr. Popkin's research program focuses globally on understanding the shifts in stages of the nutrition transition and on programs and policies to improve the population health linked with this transition. This has included involvement in several random controlled trials in the US and Mexico, longitudinal, cross-sectional and other epidemiological studies, global ecological analyses, review articles, papers on hydration, membership in beverage guidance patterns for several governments (Mexico, China) and many related activities.
Juan Rivera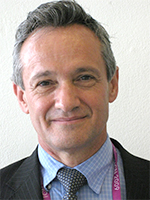 Dr. Rivera is the Director General of the National Institutes of Public Health [Instituto Nacional de Salud Pública (México)]. He was the Founding Director of the Center for Research in Nutrition and Health at the National Institutes of Public Health and is Professor of Nutrition in the School of Public Health of Mexico. He is also an adjunct professor in the Division of Nutritional Sciences at Cornell University, Ithaca, N.Y., and in the Rollins School of Public Health at Emory University, Atlanta, Ga. Dr. Rivera's research interests include the epidemiology of stunting (under-nutrition and obesity); the short- and long-term effects of under-nutrition during early childhood; the effects of zinc and other micronutrient deficiencies on growth and health; the study of malnutrition in Mexico; and the design and evaluation of politics and programs to improve nutritional status of populations. Dr. Rivera is a former director of Nutrition and Health at the Nutrition Institute of Central America and Panama (INCAP). He is a member of the group of experts of the World Cancer Research Fund (WCRF) and a member of the International Nutrition Foundation in Boston and the National Council for the Evaluation of Politics of Social Development (CONEVAL). Dr. Rivera served as president of the International Nutrition Council of the American Society for Nutrition, representative of Latin America at the board of the International Union of Nutritional Scientists (IUNS), and member of the Global Alliance for Improved Nutrition (GAIN). Dr. Rivera has been honored with the 2010 International Hippocrates and the Scopus Award 2010 in the area of Health Sciences, also the Kellogg International Nutrition Prize 2009 awarded by the American Society for Nutrition.
International Distinguished Members
Harold Alderman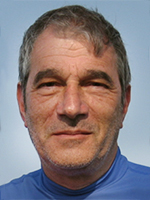 Dr. Alderman is Senior Research Staff in the division of Poverty, Health, and Nutrition at the International Food Policy Research Institute (IFPRI). Dr. Alderman's research has focused on the economics of nutrition and food policy. He spent 10 years at the IFPRI prior to joining the World Bank in 1991, after which he rejoined IFPRI in 2012. While at the World Bank, he divided his time between the Development Research Group and the Africa region where he advised on social protection policy. His current research focuses on linkages between nutrition and early child development and the means by which nutrition and social protection programs contribute to long-term economic growth.
Frank Chaloupka
Dr. Chaloupka is a Distinguished Professor of Economics at the University of Illinois at Chicago and directs the Institute for Health Research and Policy. He is also a research associate at the National Bureau of Economic Research's Health Economics Program and Program on Children. Since 1997, Dr. Chaloupka has co-directed, with Lloyd Johnston of the University of Michigan, Bridging the Gap — an interdisciplinary research collaborative funded by the Robert Wood Johnson Foundation to improve understanding of the influences of policy, programs, and environment on youth health behavior. His research interests focus on the impact of economic, policy and other environmental influences on health behaviors, including tobacco, sugar-sweetened beverages, alcohol and illicit drug use, physical activity, diet, and related outcomes; the economics of tobacco and tobacco control, particularly in developing countries. His experience on the study of tobacco taxation will be relevant to apply to SSB.
Jennifer L. Harris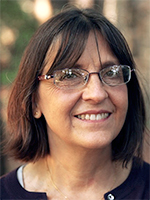 Dr. Harris is Director of Marketing Initiatives at the Rudd Center for Food Policy and Obesity and Associate Professor in Allied Health Sciences at University of Connecticut. Dr. Harris's research examines the extent and impact of exposure to food marketing, especially on children and adolescents. Her research findings have been widely used by the health community and policymakers to improve the food marketing environment surrounding children. Dr. Harris's current research focuses on marketing and public health, with an emphasis on effects of food marketing on behaviors, attitudes and motivation in children and adults. She has conducted extensive research to quantify the amount and types of food marketing seen by young people and its impact on their health and diets. She also has written on the psychological and behavioral effects of marketing to children and teens on their diets and health. Her current research areas of focus include targeted marketing to black and Hispanic youth, the extent and impact of marketing to youth on mobile devices, and effects of food marketing on what and how parents feed their babies and young children.
Corinna Hawkes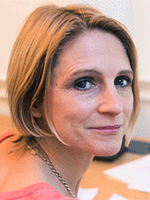 Professor Hawkes is Director of the Centre for Food Policy, City, University of London and Co-Chair of the Global Nutrition Report, an international report tracking progress in malnutrition in all its forms across the globe. Her work concerns identifying and analysing food systems policies for improved diets, food security and nutrition. She has published widely on the role of globalisation, trade, retailing and agriculture in diet and diet change around the world. Her current research looks at the role of food supply chains in improving diet and nutrition. Corinna has worked at the International Food Policy Institute, the World Health Organization, the University of Sao Paulo and the World Cancer Research Fund International, where she established the NOURISHING Policy Framework for healthy diets and obesity. She sits on the International Panel of Experts on Sustainable Food Systems (IPES-Food), the EAT-Lancet Commission on Healthy Diets from Sustainable Food Systems and the Lancet Obesity Commission.
Boyd Swinburn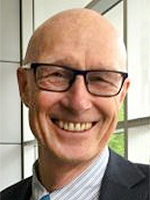 Dr. Swinburn is the Professor of Population Nutrition and Global Health at the University of Auckland and Alfred Deakin Professor and Director of the World Health Organisation (WHO) Collaborating Centre for Obesity Prevention at Deakin University in Melbourne. He trained as a specialist endocrinologist and has conducted research in metabolic, clinical and public health aspects of obesity. His major research interests center on community and policy actions to prevent childhood and adolescent obesity, and reduce what he has coined the "obesogenic" food environment. He is Co-Chair of the World Obesity/Policy & Prevention (formerly known as IOTF) and was President of the Australia and New Zealand Obesity Society (ANZOS) from 2005-2007. He has also contributed to over 30 WHO consultations and reports on obesity, authored over 300 publications and given over 400 presentations. Through these efforts he is significantly contributing to national and global efforts to reduce the obesity epidemic.