A new health policy brief from Health Affairs, titled "COVID-19 Pandemic-Era Nutrition Assistance: Impact And Sustainability," joins Health Affairs' ongoing series of policy briefs on the social determinants of health.
Its authors, including Global Food Research Program faculty Shu Wen Ng write that COVID-19 became "a stress test" for the ability of the United States to feed those in need.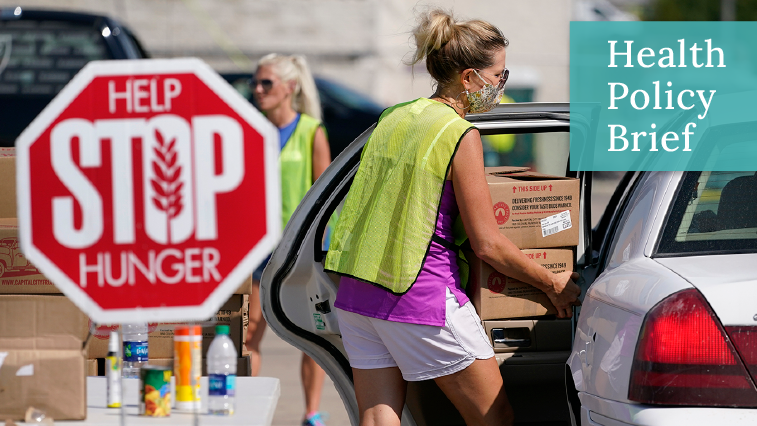 Early in the pandemic, a record number of households, including nearly fourteen million children, reported not having enough to eat, with Black and Latinx households being more severely affected than their White and Asian counterparts. The existing federal nutrition programs, detailed in the brief, primarily flow through the Department of Agriculture (USDA). For programs such as the USDA's National School Lunch and School Breakfast Programs, the COVID-19 school closures made the normal distribution channels unavailable to recipients and their families.
The brief describes efforts undertaken by the federal government in the beginning of the pandemic, such as the Families First Coronavirus Response Act of 2020 and other legislation, which allowed the USDA to expand program eligibility, change how programs were accessed, and develop new programs offering novel experiments in nutritional assistance without compromising safe social distancing.
For example, a normal requirement of the USDA's Supplemental Nutrition Assistance Program is an in-person enrollment interview. By replacing that requirement and allowing telephonic signatures for recertification, researchers estimate that some six million participants were able to be enrolled in the first few months of the pandemic.
The brief also describes some of the innovative temporary federal programs, such as the Farmers to Families Food Box Program, that were made possible with discretionary USDA funding, as well as complementary efforts by states, localities, tribes, and the private sector.
As Congress and the Biden administration prepare for the reauthorization of the Farm Bill in 2023, the authors recommend that many of the expansions, flexibilities, and new programming developed in response to the pandemic be allowed to continue. They note that these changes could help address the structural forces that create food insecurity. In addition, as policy makers also consider the next Child Nutrition Reauthorization, the authors suggest restoring and building on the 2010 federal nutrition standards and working to explore schools' expanded role in providing high-quality food year-round to students and families.
---
Funding support for this Health Policy Brief was provided by the Robert Wood Johnson Foundation.
AUTHORS
Caitlin Caspi
Rudd Center for Food Policy and Health, University of Connecticut
Hilary Seligman
Departments of Medicine and of Epidemiology and Biostatistics, University of California, San Francisco
Jerica Berge
Department of Family Medicine and Community Health, University of Minnesota
Shu Wen Ng
University of North Carolina at Chapel Hill
James Krieger
School of Public Health and School of Medicine, University of Washington
---
Read the full policy brief in Health Affairs