Researchers from UNC-Chapel Hill's Global Food Research Program (GFRP) have spent years evaluating the role that food plays in health, obesity and disease, as well as the public health policies that can moderate the negative impacts of unhealthy food and beverages on quality of life around the world.
In a new paper, published April 15, 2021, in Lancet Diabetes and Endocrinology, GFRP and UNC Gillings School of Global Public Health researchers Barry Popkin, PhD, Shu Wen Ng, PhD, and Lindsey Smith Taillie, PhD, together with partners in Mexico, Chile, South Africa and Brazil, share what their research has shown works worldwide to shift nutritional landscapes.
And they express an urgent call to cull the upswing in unhealthy food intake that is leading to chronic illnesses. (Read "Towards unified and impactful policies to reduce ultra-processed food consumption and promote healthier eating" here.)
In the past decade, countries across the globe have experienced significant increases in obesity and nutrition-related noncommunicable diseases. Through GFRP, the researchers and their partners have published extensively their evaluations of the measures nations are taking around the world to curb rising obesity rates, from economic policies such as taxes on sugary beverages to marketing regulations like warning labels on packaging.
"Ultimately this research will lead to a playbook for what policies work best," says Popkin. "That is the long-term goal of this effort that we're involved in, and this paper represents the first stage of results from our work."
Research shows that ultra-processed foods are the most rapidly growing segment of the globe's diet, and they are generally high in added sugar, sodium and fats, and low in protein, fiber and micronutrients. Studies consistently show that increased consumption of these foods increases the risk of obesity, diabetes, hypertension, cardiovascular diseases and more.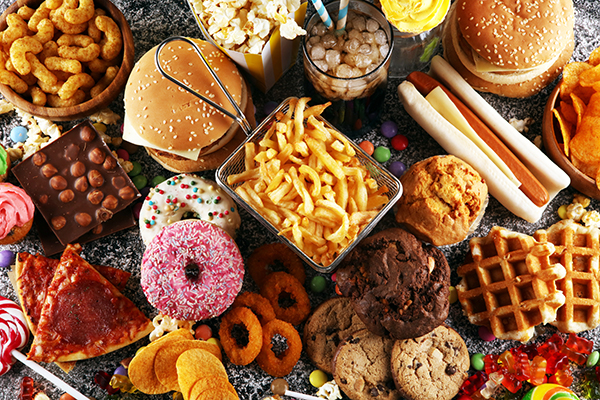 Studies consistently show that increased consumption of these foods increases the risk of obesity, diabetes, hypertension, cardiovascular diseases and more.
Successful policies to target these foods can reduce the availability of unhealthy foods, impose levies on manufacturers that produce foods containing an unhealthy amount of calories, sugar and other harmful ingredients, mandate warning labels that inform consumers about contents of products they purchase, shield children from junk food marketing and motivate manufacturers to reformulate food and drink products to make them healthier.
Over the past decade, GFRP has partnered with researchers in Chile, Peru, South Africa, Mexico, Brazil, Colombia, Barbados and Jamaica to develop a global knowledge and evidence base around large-scale, national regulatory efforts aimed at improving diets and preventing obesity. In some nations, these polices are still developing, but others are seeing measurable successes.
Chile has implemented a package of policies which includes marketing restrictions, front of package warning labels and school food policies. Fiscal policies, such as those implemented in Mexico and South Africa, have reduced the consumption of sugary drinks without negatively impacting employment in the food and beverage sectors, an argument often made by the industry. Brazil has instituted a school feeding program which is just beginning to be evaluated.
Mutually reinforcing policies, such as those in Chile, are particularly powerful, says Ng.
"While there is still room for policy improvements in Chile, it provides a good example of how a consistent set of policies will encourage manufacturers to offer truly healthier options and will send a clear message to the public around what foods are least versus more supportive of their health," she says.
Though decision making around health is ultimately up to consumers, and policymaking is a government function, the food and beverage industry actively works to block this kind of regulatory progress.
"When the category of ultra-processed food and drink products was proposed 10 years ago, their harmful impact on diet quality and chronic diseases was just a compelling hypothesis and, therefore, it was not expected that policies should target them," says Carlos Monteiro, PhD, professor of nutrition and public health at the University of Sao Paulo, Brazil, and a co-author on the paper. "But, today, with the strong evidence confirming the broad harmful impact of these products on health and revealing their irresistible worldwide growth, they became the perfect target for taxation, marketing restrictions, warning labels, and other regulatory actions aiming to promote healthy diets."
Understanding how to change food environments in ways that promote healthier nutrition for individuals will come with more evaluation and qualitative research on eating norms. With sales and consumption of ultra-processed foods on the rise, however, the key is to reduce these foods in the first place.
"Above all else, we are calling for action," the paper states.
"Ultra-processed food is the food category most linked to obesity and noncommunicable diseases," says Popkin. "From the work we've done, we see two main issues: increasing the consumption of healthy food and reducing ultra-processed foods. The thing that has to come first is to focus on ways to cut down on the prevalence of ultra-processed foods in the world diet."
Taillie says that, during the Covid-19 pandemic, it is more important than ever that all people have access to affordable, healthy foods.
"Unfortunately, right now, the aggressive marketing and pricing of ultra-processed foods is one of the major barriers to achieving the goal of healthy diets for all. Policies to transform the food system are needed in order to promote health equity, both in the US and around the globe," she says.