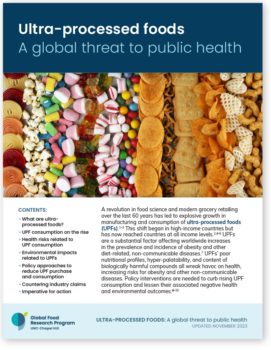 We are pleased to share a major update to our fact sheet on ultra-processed foods. This resource explains what ultra-processed foods are, how consumption around the world has increased dramatically, the negative impacts their consumption can have on health and the environment, and policy approaches to curb their dominance in the food system.
This fact sheet was originally developed in 2021. Since then, ultra-processed foods have become one of the dominant subjects of public health nutrition and policy discourse, with hundreds of scientific studies finding evidence of significant and concerning associations between high UPF intake and negative health outcomes.
This updated fact sheet includes:
New health impact evidence from prospective, longitudinal cohort studies, systematic reviews, and meta-analyses;
A new section outlining some of the key ways in which UPF production and consumption harm the environment and food systems; and
Updated discussion of challenges and opportunities involved in regulating UPFs.
This resource also provides evidence-based responses to common industry arguments against regulating or reducing consumption of UPFs.