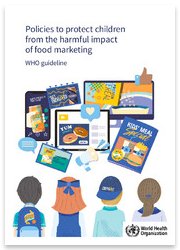 In a new perspective piece in PLOS Medicine, Global Food Research Program researchers Barry Popkin and Francesca Dillman Carpentier and alum Fernanda Mediano Stoltze reflect on the recently released World Health Organization (WHO) guideline, "Policies to protect children from the harmful impact of food marketing."
The authors highlight several strengths of the updated guidelines, which build on the WHO's previous recommendations published in 2010. The new guidelines extend the organization's recommendation to restrict marketing for high-fat, -salt, or -sugar foods and drinks, calling for policies that:
Are mandatory;
Protect children of all ages (up to 18 years old);
Use a government-led nutrient profile model to classify foods for restriction;
Are "sufficiently comprehensive to minimize the risk of migration of marketing to other media, to other spaces within the same medium, or to other age groups;" and
That restrict the persuasive power of food marketing.
The authors highlight positive updates in the newer guidelines, including:
Explicit, strong justification for protecting children based on their fundamental rights to health, privacy, and freedom from exploitation;
Consideration of brand marketing — a strategy that can be used to promote a brand associated with ultra-processed foods high in nutrients of concern without highlighting any one particular product; and
Caution against policies that focus too narrowly on certain media, places, or message types (e.g., only limiting marketing during children's television programming or only prohibiting use of explicit child appeals like cartoon characters). Rather, the guideline's definition of marketing covers all messages to which children are exposed, preempting marketers' attempts to get around restrictions by shifting placement or content to get around restricitons and continue reaching children.
Drs. Dillman Carpentier, Mediano Stoltze, and Popkin also outline some key areas where they thought the new WHO guideline fall short. They recommend a stronger argument for policy comprehensiveness (i.e., focusing on eliminating rather than limiting exposure) and more consideration for increasing use of health marketing (e.g., greenwashing or social responsibility branding). They also outline flaws in how the guideline assessed available evidence on the effectiveness of marketing policies and how food marketing affects children, which limited the strength of policy recommendations.
Finally, the authors note that countries should consider limiting marketing for all ultra-processed products, in addition to nutritionally poor foods, to fully protect all children from unhealthy food marketing and its influence on their health trajectories.
While the WHO has been recommending regulations to limit food marketing and protect children from its harms for over a decade, countries have been slow to adopt such policies, and those that have been implemented are predominantly narrow in scope.1 The new guidelines, in addition to evidence of early successes following Chile's relatively comprehensive marketing laws,2-4 support the imperative for bold, worldwide action to better protect children and population health through statutory regulation of food marketing.
---
1 Lindsey Smith Taillie, Emily Busey, Fernanda Mediano Stoltze, Francesca Renee Dillman Carpentier, Governmental policies to reduce unhealthy food marketing to children, Nutrition Reviews, Volume 77, Issue 11, November 2019, Pages 787–816, https://doi.org/10.1093/nutrit/nuz021
2 Dillman Carpentier, F. R., Smith Taillie, L., Correa, T. (2023). "Chile's Comprehensive Food Policy Offers Global Lesson in Tackling Unhealthy Foods." from https://healthpolicy-watch.news/chiles-comprehensive-food-policy/.
3 Dillman Carpentier, F.R., Mediano Stoltze, F., Reyes, M. et al. Restricting child-directed ads is effective, but adding a time-based ban is better: evaluating a multi-phase regulation to protect children from unhealthy food marketing on television. International Journal of Behavioral Nutrition and Physical Activity 20, 62 (2023). https://doi.org/10.1186/s12966-023-01454-w
4 Mediano Stoltze, F., Barker, J., Kanter, R., Corvalán, C., Reyes, M., Taillie, L., & Dillman Carpentier, F. (2018). Prevalence of child-directed and general audience marketing strategies on the front of beverage packaging: The case of Chile. Public Health Nutrition, 21(3), 454-464. doi:10.1017/S1368980017002671
AUTHORS

Francesca Dillman Carpentier
W. Horace Carter Distinguished Professor, Hussman School of Journalism and Media, UNC-Chapel Hill

Fernanda Mediano Stoltze
Assistant professor, School of Psychology, Pontificia Universidad Catolica de Chile

Barry Popkin
W. R. Kenan Jr. Distinguished Professor, Department of Nutrition, UNC-Chapel Hill
---
RESOURCES


Read more about the evidence for restricting marketing for non-essential foods and drinks high in sugar, salt, saturated or trans fats, or calorie density.
---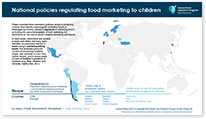 Compare existing policies around the world aimed at restricting unhealthy food marketing to children.