As part of ongoing efforts to improve diversity, equity and inclusion in the research community, the Global Food Research Program has announced a 12-week paid summer fellowship for BIPOC students interested in food policy and nutrition research.
The Fellowship for Exploring Research in Nutrition (FERN) is open to rising sophomores, juniors, and seniors from any major, at any college or university in the United States. No previous research experience is required, but applicants must have an interest in exploring food and nutrition research and potentially pursuing a career in food policy research after graduation.
FERN was created to help develop a more diverse population of nutrition researchers that better represents the communities served by public health efforts. The new fellowship is a key part of GFRP's formal commitment to incorporating inclusion, diversity, equity and inclusion (IDEA) into its work and fostering a workplace climate that is welcoming and supportive for all.
"Through our work in the U.S. and around the world, we prioritize capacity building and ensuring that people are empowered," said Shu Wen Ng, GFRP researcher and associate professor at the UNC Gillings School of Global Public Health. "We always work closely with in-country partners, designing research together and sharing and co-owning research materials and outputs. Formalizing IDEA affirms our commitment to this approach, as well as our commitment to developing future researchers."
12-week fellowship
May–August 2022
$7,500 stipend + up to $1000 professional development funds
Applications due February 18, 2022
FERN fellows will spend 12 weeks during the summer of 2022 working at GFRP and will receive a $7,500 stipend and up to $1,000 in professional development funds. The selected fellows will gain a deeper and broader understanding of critical methodological skills used in food policy research and will have the opportunity to strengthen their scientific oral and writing competencies.
"We are looking for applicants who are interested in food and nutrition research and are considering pursuing further education after completing their undergraduate degree," said Carmen Prestemon, a research assistant at GFRP. "However, it's important to know that no prior research experience is required. The FERN fellows will develop foundational research skills such as conducting literature reviews and data analysis with support from academic leaders in food policy."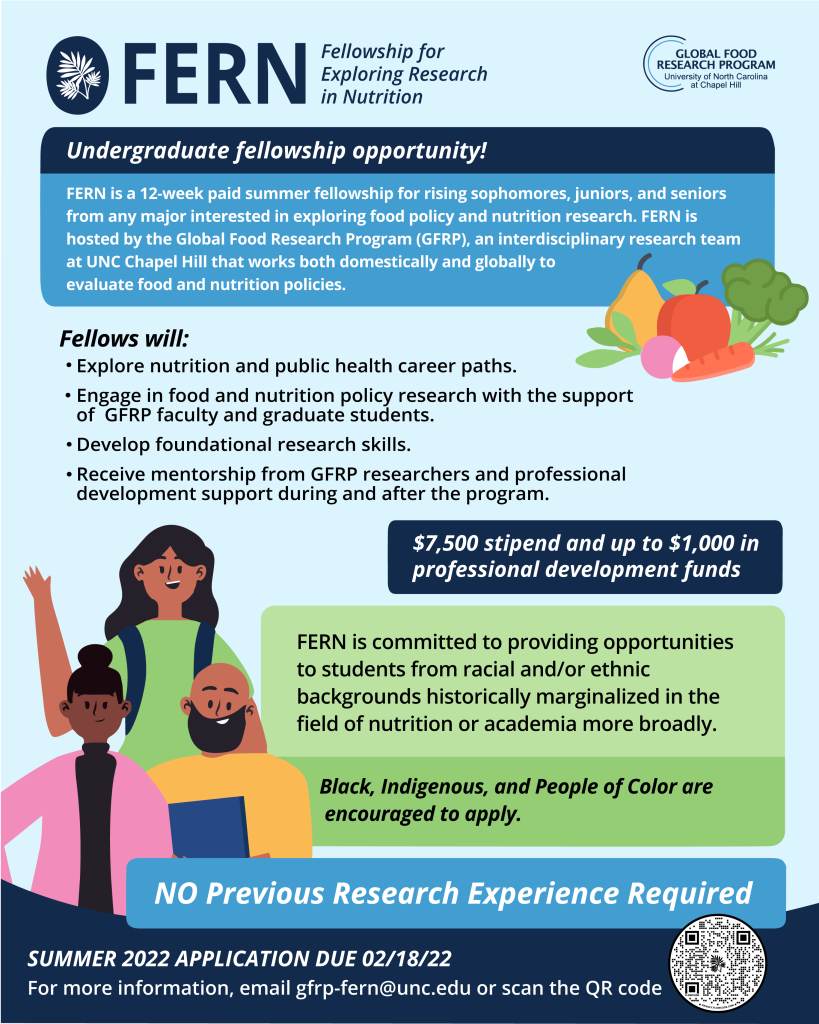 Applications due February 18, 2022. Visit the FERN page to learn more and apply.