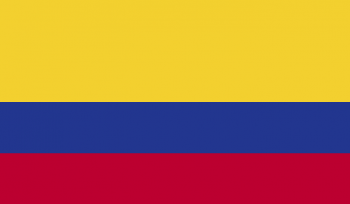 Colombia faces high and rising prevalence of obesity and diabetes, with a large proportion of calories in the modern Colombian diet coming from ultra-processed foods. Unhealthy dietary patterns are a major cause of mortality and disability-adjusted life-years there. Colombia also has strong consumer advocacy and legal groups very focused on constitutional rights of children and supporting healthy eating as a major pathway to enhance the health of all.
In July 2021, the Colombian government passed Ley Comida Chatarra (The Junk Food Law), which mandates front-of-package labeling. With our research partners in Colombia, we conducted experiments to inform the design of these labels. Our research found that octagonal-shaped labels (like those used in Chile, Peru, Mexico, and soon in Argentina and Venezuela) were the most effective, and that warning labels outperformed other label designs (Nutri-Score and Guideline Daily Amounts) among Colombians.
On December 13, 2022, the Colombian Ministry of Health issued Resolution 2492 detailing how the law will be regulated, including final label design (black octagonal warning labels) and the nutrient profiling model to identify which products will be subject to the regulation. Industry has six months to implement the labels.
Also in December, 2022, Colombia passed two fiscal policies: taxes on ultra-processed, sugary beverages and ultra-processed food products (details below). Colombia is the first country in the world to specifically target overconsumption of ultra-processed products with a fiscal policy.
Our future evaluations: In collaboration with our research partners in Colombia, we plan to evaluate the adoption and impact of the world's first tax on both sugar-sweetened beverages and ultra-processed foods.
Policies
Ley 2120 | Implemented December 16, 2022
Front-of-package warning labels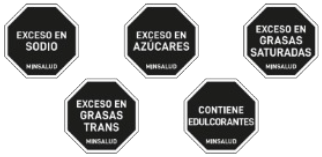 Law 2120, also referred to as the Law for Promotion of Healthy Food Environments and NCD Prevention or the "Junk Food Law," requires warning labels to appear on the front of ultra-processed foods and beverages that exceed the maximum content of sodium, sugar, saturated fats, trans fats set by the Colombian Ministry of Health and Social Protection or that contain any added sweeteners. Additionally, any product with one or more warning labels cannot make nutritional or health claims.
Read Law 2120 in Spanish; read Resolution 2492 regulating Law 2120 (Spanish; English)
Ley 2277 — Impuesto Saludable a Bebidas y Alimentos Ultra-Procesados (Reforma Tributaria) | Passed December 13, 2022
Colombia's ultra-processed product taxes
Tax on ultra-processed, sugary drinks
Beginning November 1, 2023, Colombia will tax all ultra-processed sugary drinks, including carbonated and non-carbonated beverages, malt-based beverages, teas, coffee-type beverages, fruit drinks and nectars, fruit concentrates, energy drinks, sports drinks, flavored waters, and powder mixes. The following beverages are exempt: plain water, 100% fruit or vegetable juices, and infant formula. The tax rate will depend on beverages' added sugar content and will increase yearly in three phases (with more strict sugar thresholds in 2025), and will be updated for inflation automatically, starting in 2026.

---
Tax on ultra-processed food products
Beginning November 1, 2023, Colombia will tax ultra-processed foods, defined as edible products formulated from food-derived substances along with additives, that contain added sugars, sodium, and saturated fats and exceed the following thresholds for those nutrients:
>1 mg of sodium per 1 kcal and/or >300 mg of sodium per 100 g
>10% of total energy from free sugars
>10% of total energy form saturated fats
The tax rates will be 10% in 2023, 15% in 2024 and 20% in 2025.
Ultra-processed food categories subject to taxation will include: milk products added with sugar, sausages and cold cut meats, chocolates and confectionary candies, snacks, bakery products, breakfast cereals, canned fruits and vegetables added with fat, sugar or salt, jams, jellies and marmalades, sauces, condiments, and seasonings. Exempt categories are Colombian traditional foods such as arequipe or dulce de leche (milk caramel), salchichon (sausage), oblea (thin round wafer), bocadillo (guava paste).
Read law in Spanish | English (translation of Title V: Health Taxes).
In-Country Research Partner
GFRP Team Leads